There is always a particular thrill about going to Hockenheim. I love the drive from Frankfurt, again facilitated by Andy Wheeler of our sponsor
Alamo Rent-A-Car
who had kindly arranged us a very swish hire car, I love the twisting and turning through the outskirts of Hockenheim itself and then turning in to the facility by the Bird Park and driving past those imposing grandstands. There's even something to like about all those checkpoints you have to get through at the track. I particularly love the reception we get from Christine and Peter Calwer and their media team and I look forward to seeing what little joke they have played on my media pass. This year my pass read "His Royal Togness".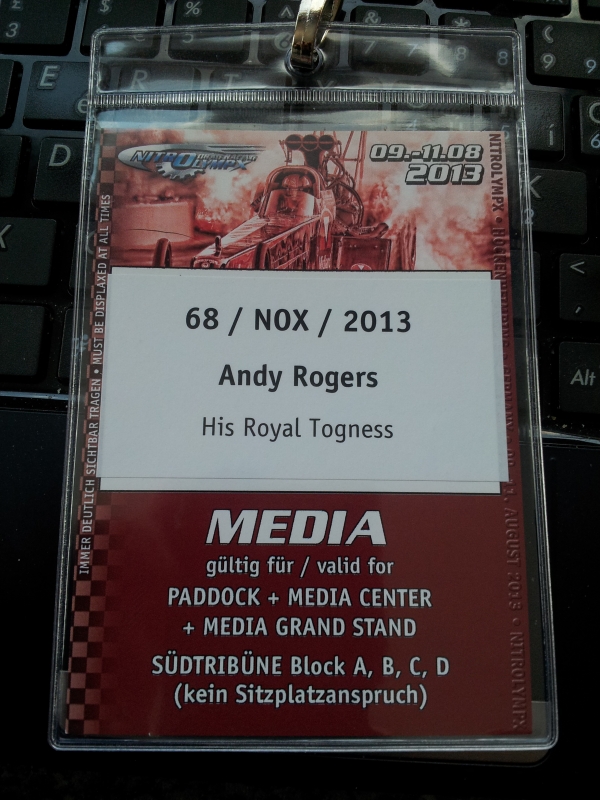 photo: Media Pass His Royal Togness
Then the walk through the pits down to Race Control to renew my acquaintance with Benni Voss, the unmistakable Voice Of The NitrOlympX and the fastest voice this side of the Urals. I spend the three days of the race sat next to Benni and it amazes me just how much of what he is saying I understand, or at least think I understand. I also experience this phenomenon with Christer Abrahamson and Björn Sundkvist when they rattle away in Swedish at Tierp Arena so I am guessing that at a subconscious level drag racing has a universal language. What? Well yes, I usually understand Colin, Barry and Darryl too.
On the subject of the walk through the pits, in my day job I have a chum who is very keen indeed on Formula 1 and I had a plan to send her a picture of myself appearing to urinate on the start line of the circuit, but in the end I settled for a shot of the line of Top Fuel Dragster pits on the home straight and sent it to her with a droll comment about treating a circuit with the contempt it deserved. She took it very well and even expressed herself jealous that I was there.
I have written in these pages before that reporting on the NitrOlympX is an intensive task. It was a little easier this time around because timekeeper Yasin Özer, who was an endless source of help during the event, was posting results on-line so I ran a split-screen report with links to those and concentrated on session commentaries, and fellow Tech Crew member Thomas Popp had devised a live commentators' screen for Super Pro ET and Pro ET which spared me a lot of high-speed arithmetic. Of course, I still did the Pro reports and full standings manually and that was its usual lively self. However, one of the mitigating factors at Hockenheim is the lunch break. I think that these breaks are a requirement of the local authorities but, either way, even a short break makes all the difference. Whilst maniacally reporting the next break is a beacon on the horizon and then when it arrives I can step outside, get some air, get lunch from the Media Centre and maybe even get to say Hello to racers in the pairing lanes and then go back inside refreshed and ready for the next onslaught. Benni also helped to keep me going with the usual limitless supply of Liptons Ice Tea which is so much more refreshing on the Continent where it comes gently carbonated.
photo: Everything you need to report a race live, including Liptons Ice Tea