Perhaps not. Bader has not exactly thrown away certain winners. His Tierp opponent, Johan Lindberg, clocked 6.039sec in the other lane, a mite quicker than Bader's personal best (6.103), while his Alastaro false start was one of a pair – opponent Mats Eriksson was marginally slower in leaving too soon (-0.043) than Bader (-0.168). Nevertheless, if Bader is developing a drag racing version of a golfer's "yips", it could spoil what is shaping up to be an intriguing championship battle.
Mats Eriksson seems to like Alastaro. He won here last year and had reached this season's final before it was rained off. This race had looked set to be another Michael Gullqvist sweep. As at Tierp, the reigning, and double, FIA champion had accumulated all the main statistics – low qualifier, low ET and top speed of the meet; only a European record was missing. The wishbone rear end locator broke for Gullqvist in the run towards Eriksson, with that the car started moving close to uncontrollable sideways and Micke´s effort to slow down the speed as quick as possible resulted in a deflated front tyre. The whole chain of action put a deifinite halt to Gullqvist's further success and competition at Alastaro for this time.
Eriksson's opponent on the money run would have been Fredrik Fagerström, making his first final-round appearance in FIA Pro Mod – though, lest we forget, "Fast Freddy" did achieve the Top Methanol Funny Car final at Mantorp during his 2007 Pro Mod sabbatical year which he ended as FIA TMFC champion. And Fagerström might well have beaten Eriksson too, having qualified third to Eriksson's tenth and been quicker than the hairy-handling "Green Goblin"in all but the opening round of eliminations.
Another luminary rising to the fore this season from Sweden's seemingly inexhaustible Pro Mod supply is Bert-Ove Olofsson. Though hardly a newcomer to the scene, veteran chassis-builder "Bertan" has not previously mounted a significant FIA championship challenge. Currently he lies third in the points behind Bader and Gullqvist, having clocked a new personal-best ET in qualifying (the event's only Pro Mod PB) and made it to the semi-final, where Fagerström beat him.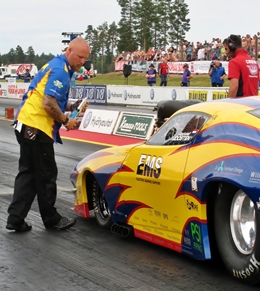 Robert Joosten guided into stage position by crew member Jan Selles