Every year Christine Calwer, who handles media relations for the NitrOlympX, would ask me if I was going and every year I would have to reply "Not this year, maybe next year?" and even at this distance I could discern her bottom lip trembling. In 2008 Christine asked the usual question and… well, it was a few years ago so my memory could be a bit faulty on this but if I remember rightly it was something like "I am on the top of a very tall building with some petrol and a box of matches and if you don't come this year then I will set myself on fire and jump off". It was either that or "Please, we would really like you to come to cover our event".
You all know that I hate to do things at the last minute but this one came together very quickly. It was only a few weeks before the event when I realised that I had the time off work to spare and that the bank account was reasonably healthy. Maybe it could be done! Christine and Yvonne made the arrangements at their end including transport to the track, hotel, accreditation, a place for me in the commentary booth, all that kind of stuff. Another concern was internet access at the track (2008 was still quite early days for guaranteed access) but Top Fuel Dragster racer and longtime Eurodragster.com supporter Andy Carter offered to loan me his 3G stick and waved aside all talk of payment for the roaming fees.
Meanwhile I was talking to Kirstie to see if she would like to come along as our event coverage would need photographs. At that point Kirstie had not covered many events with the Eurodragster.com team but she had impressed us with her photography and with what seemed like boundless supplies of energy and enthusiasm. As a lot of you know Kirstie works in a school and so time off work in August was not going to be a problem. I did not want to pile too much pressure on Kirstie as our only photographer for such a big event, and in any case you really need two photographers at a major race, so we also arranged for Markus Münch to provide us with pictures.
If there was any justice in this world then Markus and his sidekick Mattias Schneider would be world famous. These are two of the most talented guys you could hope to meet with skills including photography, journalism, graphic design and web site design, and they are great guys with it. Markus gladly agreed to help us out with photographs and at Christine's request he also drove us from Frankfurt Airport to Hockenheim. As we entered the arrivals hall at Frankfurt I was a little worried about recognising Markus as at that point I had only met him a couple of times and then only briefly, and I do not have a very good memory for faces. Having scanned those waiting at the barrier I made for the tall guy in a hot rodding T-Shirt and luckily it was Markus. I don't know what I would have said or done had it not actually been Markus; I guess that what IBM used to call "unpredictable results" would have ensued.
We reached Hockenheim early on a balmy evening and took a look around. I also stepped up to the commentary booth to check out my desk and all looked good. I would be sitting in between legendary track announcer Benni Voss and Christina Kehl, who was then the equally legendary "Achtung fahrerlager" lady - even though I had never before been to Hockenheim I knew about the announcements.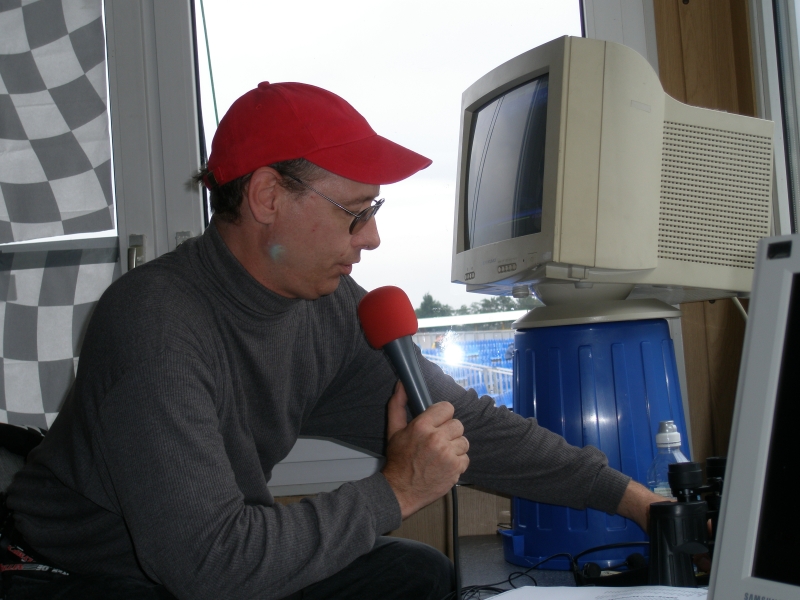 Benni Voss - popular announcer at the NitrOlympX
Benni is no stranger to anyone who knows anything about European drag racing. My first experience of Benni's commentary was at Santa Pod Raceway some years ago when he was invited to commentate on a European Super Street Bike Series which was being contested at the time. I think that "Coherent raving" is the best way to describe what emerged from the PA that day; boy was it entertaining, and boy was Benni enjoying himself. I think he took his fellow announcers by surprise. Not for nothing was (and is) he known as the fastest commentator this side of the Urals. Benni's commentary has slowed down some since those days and his voice has taken on an authoritative air but that voice is still one of the most easily-identified in drag racing. My German is terrible but as I have said before you don't need to understand the language to be able to tell how good a commentator is and Benni is very good. Benni, a big Eurodragster.com fan and contributor of interesting news items from Germany, had arranged for my desk and spare timing console and he made me very welcome, cadging me lunch and maintaining a frequent supply of Liptons Ice Tea which tastes particularly good when taken in the greenhouse which is the commentary booth.